The International Association of Dry Cargo Shipowners (INTERCARGO) is representing the interests of quality dry cargo shipowners. INTERCARGO convened for the first time in 1980 in London and has been participating with consultative status at the International Maritime Organization (IMO) since 1993.
INTERCARGO provides the forum where dry bulk shipowners, managers and operators are informed about, discuss and share concerns on key topics and regulatory challenges, especially in relation to safety, the environment and operational excellence. The Association takes forward its Members' positions to the IMO, as well as to other shipping and international industry fora, having free and fair competition as a principle.
INTERCARGO is committed to safety and quality in ship operations, with a focus on operational efficiency and the protection of the marine environment
You may view INTERCARGO's Annual Review 2021/2022  , Annual Review 2020/2021 , Annual Review 2019/2020,  Annual Review 2018/2019.
INTERCARGO encourages the adoption of a zero tolerance policy regarding illegal wildlife trade and would also support in its capacity:
– information sharing and detection
– practical measures to stop the transportation of illegal wildlife product
– new mechanisms tackling illegal wildlife trade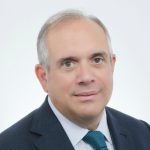 The incumbent Chairman of INTERCARGO is Mr. Dimitris J. Fafalios.
INTERCARGO's Members predominantly operate Bulk Carriers in the international dry bulk trades, such as coal, grain, iron ore and other bulk commodities. INTERCARGO's main role is to work with our Members, the Regulators and other Shipping Associations to ensure that shipping operates safely, efficiently, and in an environmentally sound way. INTERCARGO actively participates in the development of global legislation through the International Maritime Organization and other international bodies.
INTERCARGO's Work Programme (please refer to TOPICS on the main menu on this website) covers the most important issues affecting dry bulk shipowners.
An overview of the INTERCARGO Membership is provided here and individual Members are listed here.
Please refer to INTERCARGO's Constitution to read the objectives of INTERCARGO and information on the Management and functioning of the Association.
You are invited to view INTERCARGO's latest Annual Review for 2021/2022.
INTERCARGO is the brainchild of Antony J. Chandris who pursued a vision of creating a forum which would draw together individual dry cargo shipowners for the common benefit: a forum where matters of mutual interest and concern could be discussed and resolved. The first General Meeting of the Association took place on 23rd April, 1980 in London.
INTERCARGO Chairmen, Vice-Chairmen, and Secretary Generals
Period
Chairman
Vice Chairmen
Secretary General / Director
2021 to date
Dimitris Fafalios
Spyros Tarasis
Kostas G. Gkonis (2016 to date)
Uttam Kumar Jaiswal
2019 – 2020
Dimitris Fafalios
Jay K Pillai
Spyros Tarasis
2016 – 2018
John Platsidakis
Jay K Pillai
Nicky Pappadakis
2015 – 2016
John Platsidakis
Jay K Pillai
David H. Tongue (2014-2016)
Nicky Pappadakis
2013 – 2014
John Platsidakis
Nicky Pappadakis
Rob Lomas (2008-2014)
Giuseppe Bottiglieri
2005 – 2012
Nicky Pappadakis
John Platsidakis
Giuseppe Bottiglieri
Roger Holt (1999-2008)
2000 – 2005
Frederick Chavalit Tsao
Gian C Savasta
Pierre Gehanne
1999 – 2000
Frederick Chavalit Tsao
Peter Cowling
Gian C Savasta
1998 – 1998
Sverre Tidemand
Peter Cowling
Bruce Farthing (1985-1998)
Gian C Savasta
1996 – 1998
Sverre Tidemand
Peter Cowling
1995 – 1996
Spyros Polemis
Sverre Tidemand
Peter Cowling
1994 – 1995
Spyros Polemis
Tak Wakasugi
Sverre Tidemand
1993 – 1994
Dr Frank Chao
Spyros Polemis
Tak Wakasugi
1991 – 1993
Dr Frank Chao
Spyros Polemis
Bjorn Wilhelmsen
1990 – 1991
Dr Frank Chao
Carl Schrumpf
Spyros Polemis
1987 – 1990
Menis Karageorgis
Dr Frank Chao
Carl Schrumpf
1986 – 1987
Menis Karageorgis
Dr Frank Chao
Morten Werring
1985 – 1986
Morten Werring
Menis Karageorgis
Dr Frank Chao
1980 – 1985
Christer Salen
Antony Chandris
Morten Werring