Dear INTERCARGO Members,
The INTERCARGO management team joins me in wishing you, your families, your seafarers and office staff health, joy, good fortune and above all, peace for 2023.
Just as we believed that 2022 would be a transition year, freeing us from the many COVID restrictions that had hampered both our lives and global trade, the world – and of course our own dry cargo shipping sector – faced the turmoil of the Ukraine – Russia conflict.
The resultant significant changes in trade flows were well served by our dry cargo tramp model, proving that this is a model that we must strive to protect. Bulk carriers swiftly diverted to new routes to compensate for the lack of exports from Ukraine and subsequently from Russia itself.  As sanctions continued to pose increasing complexities for dry cargo the INTERCARGO secretariat worked hard to keep its members abreast of the ever changing situation.
And whilst the Ukraine-Russia situation dominated the news, Asia continued to be vital to our business. The region, which recently welcomed the eight billionth person to this planet, hosted our meetings in Singapore in November.
Decarbonisation continued to dominate the agenda and I assure you that our members' views will be put forward at IMO and other fora worldwide with the same passion and conviction as you have demonstrated in your discussions with us.
Our membership, so important to our organisation, grew further throughout 2022 to more than 150 full members – all top class businesses demonstrating their commitment to quality.
We know, however, that INTERCARGO must look forward to the future with renewed impetus by assisting our membership, both with their everyday issues as well as with future challenges. With the support of the Executive Committee, a revised fee structure has been developed, with the aim of strengthening the range of services that INTERCARGO can provide to its members, and building solid foundations for an uncertain future.
2023 will bring new challenges, I am sure of this. Our sector, shipping's largest, will be served by our dynamic organisation representing, an increasing number of quality dry bulk owners, operators and associate members.
May our crews and vessels have smooth, safe voyages performed efficiently and in the most environmentally friendly manner.
Thank you for your kind support.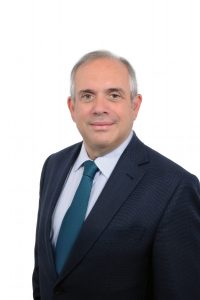 Dimitris J. Fafalios
INTERCARGO Chairman