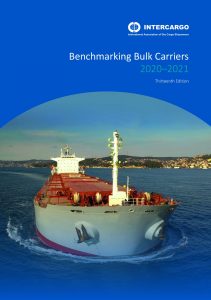 The INTERCARGO "Benchmarking bulk carriers" 2020-2021 report has been published. Members may access the report which is attached to this webpage (login required) and will be receiving their free copy directly from the publishers, Witherby's. Non members may order the report from Witherby's Publishing Group (www.witherby's.com)
Foreword / Executive Summary
At the time of publication of INTERCARGO's 2021–2022 Benchmarking Report, the shipping community has been caught up in the terrible conflict in Ukraine. Our thoughts are with all those at the centre of the conflict and the tragic developments in Ukraine, and the seafarers. A significant proportion of seafarers working on board bulk carriers are personally affected by the current circumstances.
The vast majority of ships trapped off Ukraine are bulkers carrying essential grain cargoes, such as wheat and corn, and strategic coal cargoes required to meet energy needs. It must be remembered that Ukraine and Russia account for very significant shares of global exports for such essential goods. Dry bulk owners are doing everything they can to ensure the safety of their crews and their vessels.
While our Association has cosponsored, with industry partners, a paper submission to IMO on how seafarers' safety, security and welfare have been impacted and developing a series of pragmatic and practical solutions, it is doubly unjust for the seafaring community that this tragedy should come so hard on the heels of the COVID-19 pandemic, a time when our crews were tested to the full and are still only recovering from the hardships endured.