Dear INTERCARGO Members,
All good wishes to you, your families, your seafarers and shoreside staff for a Happy New Year full of health, peace, joy, good fortune and smooth seas.
Looking back to my 2020 New Year's message, how differently did the year develop compared to our hopes last January!
For 2021 we must continue to be optimistic and face the challenges ahead with good cheer.
The COVID pandemic has dominated our lives and those of our seafarers. Hope exists with the multiple vaccines that will soon be available worldwide in meaningful quantities.
INTERCARGO will continue to strive, together with the other Round Table organisations to press IMO, ILO and governments to allow seafarer signing on/off in the widest range of ports worldwide. Seafarers have been recognized by both the IMO and the UN as key workers. This should prioritise their vaccination prior to sign-on as well as their unimpeded access to shoreside medical facilities whilst on board.
INTERCARGO has continued to illustrate the negative attitude of many dry cargo charterers to permitting crew changes before or during the charter period.
This disappointing stance has been aided by the tonnage overcapacity in our sector. We must, however, draw encouragement from the relatively low newbuilding orderbook at the beginning of 2021 standing at 618 vessels and 56.9 m. dwt.
Sustained profitability in the dry bulk cargo sector can only be achieved through discipline in ordering new vessels.
2021 will also see the continued virtual discussions at IMO on Greenhouse Gas (GHG) reduction and INTERCARGO will be actively participating.
INTERCARGO and its partners will be closely monitoring the quality issues with Low Sulphur fuel oils as well as the real-world performance of Ballast Water Treatment Systems.
INTERCARGO's work programme, inspired by its Members, is being ably progressed by Kostas Gkonis, our Secretary General, Ed Wroe, Joe Zhou, Paul Markides and Tonya Dendrinou.
The next semi-annual meetings will probably take place virtually on 11-12 March 2021 with optimism that our October 2021 meetings can be carried out both physically and virtually at the same time.
Finally, INTERCARGO's 40th year celebrations have been re-arranged with a virtual webinar on 28th January followed, hopefully, by a physical event at the end of 2021 or early 2022.
Together with the Secretariat, we look forward to seeing you all both virtually and physically during this challenging year.
Kind regards and every best wish for problem-free-voyages.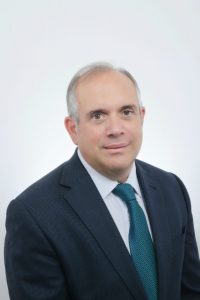 Dimitrios J. Fafalios
Chairman