Members may have read the press release of Panama Canal summarising its performance of the Fiscal Year 2017 (FY2017) (https://www.ajot.com/news/panama-canal-sets-record-annual-cargo-tonnage-in-fiscal-year-2017). It led us to do a general research with following findings to share with members.
Historical performance
In terms of transit of tonnage, bulk carriers played a remarkable role in the past transiting through the old locks (https://www.lamar.edu/engineering/research/center-for-advances-in-port-management/_files/documents/Jorge%20Quijano%20Presentation.pdf):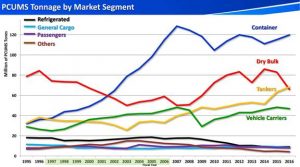 (notes: red line is Dry Bulk; blue Container; yellow Tankers; green Vehicle Carriers)
Grains, the leading commodity group transported in bulk carriers through the Panama Canal, account for 45-60% of total cargo in some years, which consists of soybeans, sorghum and corn from the United States ports in the Gulf of Mexico to Northern Asia, especially China, Japan and South Korea. It seems that similar cargo from Brazil and Argentina would less use the Panama Canal for the shipment. Therefore increase of grain export from Brazil and Argentina is expected to reduce the export of the same from the US , therefore less transit of the Panama Canal would be.
In the meantime, another factor affecting the transit level of Panama Canal is because of lower fuel cost, which encourages the increase of Panamax vessels with grains through the Cape of Good Hope.
In addition to grain, other cargoes transiting the Canal include salt from Chile to the East Coast of North America, iron and steel products to the US from China and South Korea, coal and coke cargoes from the Pacific Coast of Canada to Europe and from the Atlantic coast of Colombia to Chile.