The INTERCARGO "Benchmarking Bulk Carriers" 2019-20 report has been published.
Members may access it attached to this webpage (login required) and will be receiving their free copy. Non-members may order the report at info@intercargo.org or from Witherby Publishing Group (www.witherbys.com).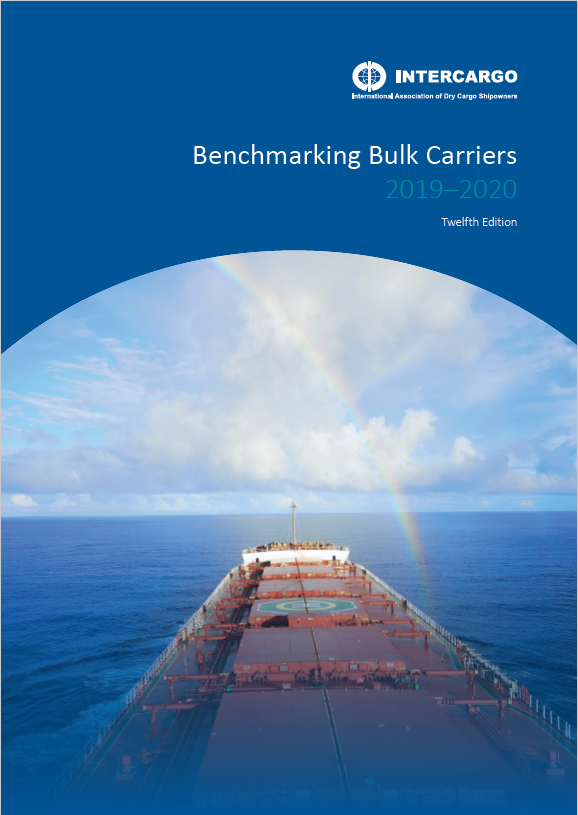 Foreword/Executive Summary
The world may have left 2020 behind, at the time of publishing INTERCARGO's 2019–2020 Benchmarking Report, but it still faces the unprecedented challenges the previous 12 months have brought not only to shipping but to humanity altogether. Nobody could have anticipated what the last year would bring, as the COVID-19 pandemic dominated people's lives. INTERCARGO continues to support the industry's coordinated efforts to bring the seafarers' humanitarian crisis to end.
Dry bulk shipping is necessary for maintaining and enhancing living standards in both developed and less-developed economies. Coronavirus caused unprecedented disruptions to global commerce and economic growth. Against these hardships and during these difficult times, dry bulk carriers have remained the workhorses of international shipping serving essential needs, such as food, raw materials and energy supply.
Across shipping, there was an estimated 3.8% drop in sea trade in 2020 compared to a 4% fall after the 2008 financial crash. Market-wise, average earnings for the dry bulk sector in 2020 were the worst for at least five years. The Baltic Dry Index averaged just 1,066 points, down by around 20% from 2020, and the lowest since 2016's average of 673 points.
Dry bulk shipping demand contracted by up to -3% in volume and by more than -2% in ton-miles. The second half of the year was much better than the first half, yet China's exception in driving up demand was offset by a generalised slump in most other parts of the world, with India, Europe and the rest of Asia importing less bulk commodities. On the supply side, the bulker newbuilding sector had a dismal year in 2020. According to market estimates, contracts in terms of volume dropped to their lowest level since 2016 and the second lowest in the last 20 years, which should ease the tonnage overcapacity in the sector.
Through to 2021, increasing demand and a low orderbook are the main reasons for optimism; cautious outlook points to global seaborne trade progressively regaining momentum. Dry bulk trade could rebound by around 4% in volume and even higher in tonne-miles. At the same time, low deliveries are expected to keep supply growth within 2% to 3% levels.
The outcome depends greatly on the evolution of the coronavirus pandemic and its allowing the world economy to recover. Some end of 2020 figures indicated economic activity to move towards a +4%, or even +5%, world GDP growth in 2021, after a similar-sized (~4.5%) contraction in 2020. But although China's economy is reviving, most other countries are not there yet. The recovery is likely to be uneven across countries, potentially leading to lasting changes in the world economy.
Looking at the broader picture, dry bulk shipping experienced very good times in the 2000–2009 decade, followed by a very weak 2010–2019. In the current decade, the sector will have to prove its resilience and exploit the opportunities offered by the combined megatrends of sustainability and technological evolutions.
INTERCARGO's three reference pillars remain those of safety, efficiency and environmental soundness with a constant aim for "quality and operational excellence". The INTERCARGO Secretariat is proud that our Members, dry bulk cargo shipowners, remain committed to achieving environmental and operational excellence and to meeting the UN Sustainable Development Goals. While shipping is the most environmentally friendly transport mode, the further reduction of greenhouse gas emissions from ships is the greatest environmental challenge ahead. Following the progress of the last few years, we now see challenges such as quality issues with low sulphur fuel oils, as well as the real-world performance of ballast water treatment systems. The efficiency of international shipping is largely due to the scale and efficiency offered by bulk carriers.
The present benchmarking report, while still referring in some chapters (see below) to past year 2019 bulk carrier inspections, has benefited from an automated, and thus much improved, process of collecting said data, compared to past reports. As reported last year, this was an improvement the INTERCARGO Secretariat introduced in order to reduce errors in identifying areas of concern. The assistance of MIS Marine in switching the data gathering process from a manual to an automated process and ensuring the accurate and timely production of this report has been invaluable.
The introductory chapter looks at the capacity of the global dry bulk fleet, the newbuilding orderbook and other key aspects of the global dry bulk fleet and market trends in the period under consideration.
In terms of safety, regrettably the INTERCARGO Secretariat has to report one ship loss with the associated loss of 25 lives. The vessel in question was carrying nickel ore from Weda Island to Morosi when it disappeared on 20th August 2019. The wreck has since been located at a depth of 843 metres in the vicinity of the Eastern Spice Islands. Investigations into the loss are ongoing.
Incidents that resulted from problems with the main engine, other machinery and of a technical nature highlight the importance of in-depth analysis of design, manufacture and maintenance effort and sufficient provision of adequate spare parts on board. Serious concerns also arise when referring to the high number of reported incidents of collision and allision.
Classification Societies provide valuable services for the design, construction and maintenance of ships. Although there are over 50 Classification Societies, the 12 leading Societies are all Members of the International Association of Classification Societies (IACS) and these 12 IACS Members "class" almost 92% of the global fleet. In terms of quality for the year 2019, the data clearly shows that IACS Members, as a whole, outperform the non-IACS Classification Societies in both DPI and the percentage of detentions compared to market share.
In 2019, the number of Flags remained constant at 84, i.e. the same as 2018. Out of the 84, 13 have fleets of 100 bulk carriers or more and account for approximately 88% of the global bulker fleet or 9,519 vessels. 36 Flags have improved the DPI between 2018 and 2019 and Egypt has made the most significant progress having managed to reduce its DPI from 6.72 in 2018 to 4.37 in 2019.
INTERCARGO, through its Members, is committed to operational excellence in the areas of safety, security, health and the environment. INTERCARGO maintains a robust and strict policy for entry which, by design, exceeds industry averages. In 2019, INTERCARGO-entered vessels consistently outperformed industry performance indicators in terms of both deficiencies and detentions. This is a statistic the INTERCARGO Secretariat and our Members take pride in.
The Owners' benchmarking tables, in the relevant chapter, apply to the global dry cargo fleet and allow dry bulk companies to compare their fleet performance against their peers, including detention rates and deficiencies per inspection ratio indices.
The Negative Performance Indicators (NPI) chapter categorises recorded incidents and shows, year on year, the changes in numbers of significant incidents against the most frequently notified incidents such as collisions, groundings, etc on a global level for dry bulk carriers.
The market share enjoyed by the Members of the International Group of P&I Clubs remains steady at around 93% year on year and in performance terms measured in deficiencies per inspection (DPI) continues to record around 50% less than the rest of the industry at DPI 1.40 versus 3.20. Non-IG Group clubs' market share reduced from 8.4% in 2018 to 7.3% in 2019.
A summary of PSC data shows that the most active authority is the Tokyo MoU for which some 14,000 inspections of bulk carriers took place in 2019 resulting in 284 detentions from 4,091 inspections incurring deficiencies. At the other end of the scale, the Caribbean MoU only inspected 68 bulk carriers of which there were 15 with deficiencies and zero detentions.
Members and non-Members of our Association are encouraged to continue participating in INTERCARGO's Reporting Schemes, including 'Ship–terminal interface experience and problems' and 'Safe loading/unloading at anchorage', as well as 'Benchmarking crew injury frequency and lost time'.
INTERCARGO provides the forum where dry bulk shipowners, managers and operators are informed about, discuss and share concerns on key topics and regulatory challenges, especially in relation to safety, the environment and operational excellence. The Association takes forward its Members' positions to the IMO, as well as to other shipping and international industry fora, having free and fair competition as a principle. INTERCARGO unites and promotes quality dry bulk shipping, bringing together some 220 companies from 30 countries and offering a quality badge widely recognised by the industry.
Thank you for supporting our mission.
The INTERCARGO Secretariat
February 2021