– January 2020-
Dear Members of INTERCARGO,
Warmest wishes to all of you, our seafarers and their families
for Health, Prosperity & Safe Seas in 2020!
A brief review follows of our Association's activities last month and of what is upcoming:
Membership; upcoming INTERCARGO Semi-annual meetings; recent/upcoming meetings & Calendar of events;  
Media Releases; Publications-papers; Members' Reporting & Surveys;
Regular Circulars; Updates under our Working Programme;
Membership Renewals; Secretariat updates; Other updates.
In more detail:
Membership update
New members in December:
– UNION COMMERCIAL INCORPORATED
New 2019/Q4 Members are listed here; new Q3 Members here; new Q2 Members here; and new Q1 Members here.
Our Membership stats as of 31.12.2019 – you may also view here:
– Full members – 145 Full Members and 77 Associate Members
– Registered ships – #2,260 ships (with a total tonnage of 215 mil. dwt)
(i.e. about 20% basis numbers and about 25% basis dwt of the global dry bulk carrier fleet)
Our Association's next semi-annual meetings: Singapore on 9-10 March 2020 – Registrations are OPEN
The next semi-annual INTERCARGO meetings will be taking place
at the Grand Hyatt Singapore on Monday 9 March and Tuesday 10 March 2020.
You may view the meetings' schedule and register your participation here.
Recent/upcoming Meetings & Calendar of events
– lunchtime presentation (Dec. 13) hosted by INTERCARGO and delivered by Associate Member MacGregor Greece Ltd
on "The importance, efficiency and safety aspects of Hatch Covers" – please see here
– (upcoming) IACS External Advisory Group meeting (Jan. 10)
– (upcoming) "Together in Safety" initiative meeting (Jan. 21)
– (upcoming) IMO Sub-Committee On Navigation, Communications And Search and Rescue (NCSR 7) (Jan. 13-24)
Please view also the INTERCARGO calendar with all upcoming events attached to this webpage.
Media Releases
– Joint Media Release "Shipping sector proposes USD 5 billion R&D board to cut emissions" (Dec. 18) – please see here
Publications & papers
– INTERCARGO Annual Review 2018/2019 – please see here
– INTERCARGO Submissions to IMO in 2020 – please see here
– INTERCARGO Submissions to IMO in 2019 – please see here
– INTERCARGO Benchmarking Bulk Carriers 2017-18 report – please see here
– INTERCARGO Bulk Carrier Casualty Report 2018 – please see here
– for the latest INTERCARGO publications please see here
Members' Reporting & Surveys – please refer for details here
– Terminal Reporting
– Safe Loading/Unloading at Anchorage
– BWTS Survey
– Crew injury frequency and lost time
– Online survey 'IMPORTANT TOPICS in 2019'results – please see here
Regular Circulars
– Selected News Headlines (weekly, also posted here)
– Dry bulk trade and fleet update (monthly, also posted here)
– the present update of Secretariat activities & upcoming ones (monthly, also found at the present webpost).
Updates under our Working Programme in December
– Design & Construction, Machinery & Operations – please see here
– Emissions (Sulphur & GHG)– please see here
– Incidents & Casualties – please see here
– Life Saving – please see here
– Ports & Terminals – please see here
– Training, Manpower & Human Element – please see here
– International Maritime Organization (IMO) – please see here
– Other Legislation – please see here
Membership Renewals
Please be reminded that this is the time of the year to renew your Membership with INTERCARGO: your good company must have already received the relevant invoice for the 2020 Membership year.
(if not received, please promptly contact the Secretariat at info@intercargo.org)
Kindly note that:
– the timely payment of Membership fees is paramount for the functioning of our Secretariat and the budgeting of our Association and therefore highly appreciated
– 2020 Membership logos and Company Certificates will be provided upon renewal of Membership
– Full Members will be able to download their 2020 Vessel Certificates soon – a separate communication will follow
Secretariat updates
Please be reminded again of our Secretariat office new address:
INTERCARGO, 4th Floor, 123 Minories, London EC3N 1NT, U.K.
with new main telephone number: +44 (0) 20 8106 8480
You may view our office & team contact details also here
Other updates
Please also refer to the respective emailed circulars and consult the articles on our website https://www.intercargo.org/
The latest updates are posted on the Homepage under IN FOCUS, LATEST ARTICLES, and MEMBER NEWS;
also navigate the MENU (top of page) for TOPICS, NEWS, and other categories of updates.
For any question or clarification, do not hesitate to contact me.
Kind regards
Kostas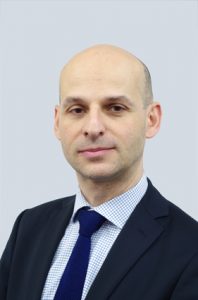 Kostas G. GKONIS, PhD
Secretary General
The rest of the content is not permitted for your membership level or if you do not Login first
.